Tip 1
The Napoleon Premium Fire is an eye-catcher - and it works extremely well when you play with the surfaces of the selected wall and highlight them with bright colours. Unused corners can also be highlighted by the electric fireplace as well as a chic wall colour and thus be put in a new light. In the living and dining area, its design and the play of flames already enhance the entire atmosphere - colour effects on the wall reinforce this impression even more.
Tip 2
Light natural tones such as greige (a mixture of grey and beige), brown tones and even rusty, matt colours are all the rage and accentuate the e-fireplace design. Patterned wallpapers are also celebrating their big comeback and give the look and feel that special something. So: repaint the wall, wallpaper it, use spatula techniques or set the scene with stucco. This way, you don't just give the wall a striking effect - the Napoleon Premium Fire becomes an absolute eye-catcher.
Tip 3
Just change the room: Because the e-fireplace is portable and easy to assemble, you have many design options within your entire living space. As an interior junkie, I love changes in my four walls and because of the easy assembly and disassembly, I can also hang this e-fireplace elsewhere and thus create a whole new look in my home. This is one reason why this interior accessory is perfect for rental flats.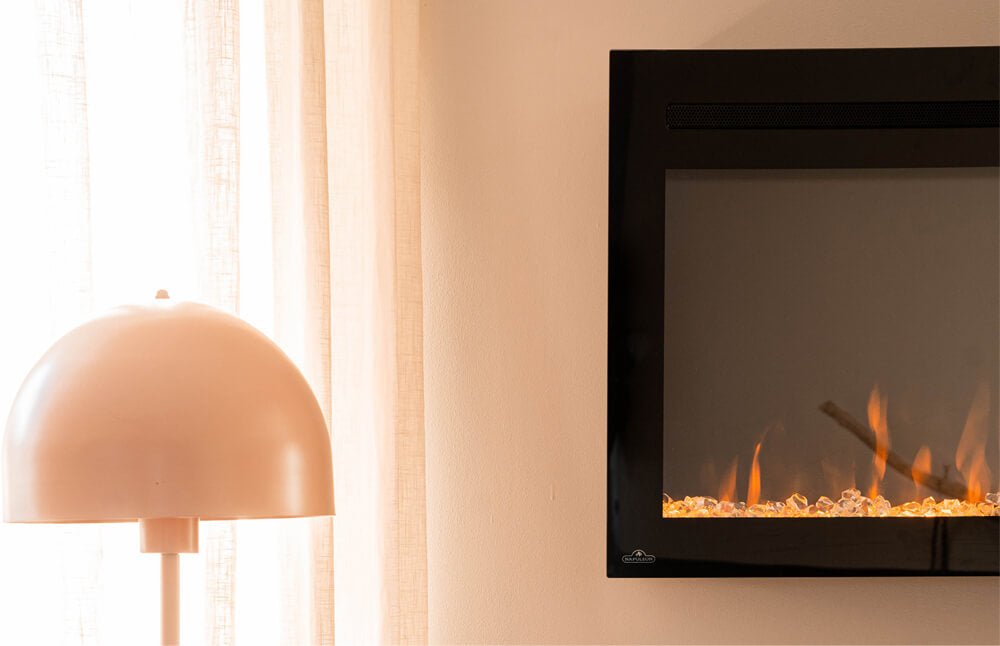 Tip 4
You hang the electric fireplace like a mural. It is nice that it can also be incorporated into drywall. If you have the option of recessing the electric fireplace into a wall, this is a successful visual addition.
Tip 5
Depending on taste and conditions, you can mount the e-fireplace at eye level or in the lower third of the wall. With favourite furniture and individual living accessories that match the walls and furniture, you can round off the overall picture particularly well. This also applies to large entrance or dining areas: Here, the Napoleon Premium Fire electric fireplace also creates a special feel-good ambience!